Join us for the WIFT-Atlantic Making Waves Conference, Halifax, Nova Scotia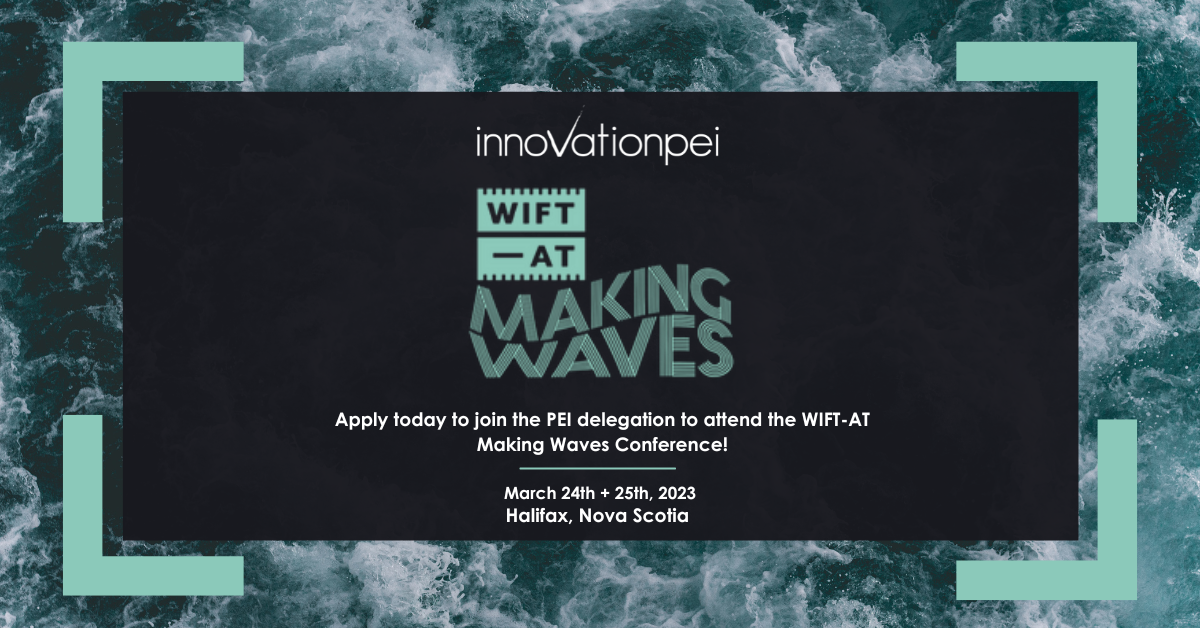 Innovation PEI is now accepting applications from PEI film and television professionals to join a PEI delegation to Halifax, Nova Scotia to attend the WIFT-AT Making Waves Conference, March 24th- 25th, 2023. Up to 8 partial bursaries are available, each in the amount of $500 to provide travel support to applicants seeking to attend the two-day conference of panels, workshops and networking events for film, television and screen-based media industry professionals. The delegation will act as ambassadors for the Prince Edward Island film and television community, enhance the group's knowledge, and build connections across the regional screen industry.
Eligibility
To be eligible for a bursary, you will identify as a woman, female, trans, genderqueer or nonbinary media professional. Preference will be given to
members of the Black, Indigenous, People of Color, and the 2SLGBTAIQ+ communities, as well as individuals living with a disability or from any other equity-deserving community. Priority will also be given to first-time attendees to the conference.
Please self-identify in your letter of intent. Applicants should clearly indicate in their Letter of intent how this bursary will aid in their professional development and why they should be considered for the bursary. Bursaries cannot be used for any other purpose. A final report outlining the
activities and outcomes of the conference will be required by April 11, 2023.
Travel and Accommodations
Applicants will be responsible for booking their own travel and accommodations for this trip.
Application Process
In order to apply, individuals must complete the attached application form and provide supporting material by February 21, 2023. Below you will find the criteria for applications:
Letter of Intent outlining professional development goals, objectives for the Making Waves Conference, what skills/knowledge you hope to develop, and how the bursary may help support these goals.
Resume/CV including previous film/television credits and experience working in the screen industry on Prince Edward Island.
Please submit materials directly to Meaghan Brander, Film Industry Growth Specialist at mdbrander@gov.pe.ca.